This is the original crochet heart bunny pattern by LovenikaDesign.
This pattern is for personal purposes only. You may sell the finished toy you created with the help of these instructions, but you are NOT allowed to sell the pattern or copy, share or distribute it in digital or paper form in any language. Thank you for your understanding.
Finished size
Using similar yarn and 2,5 mm crochet hook, heart is around 3cm * 3cm (1,2'' * 1,2'', without ears and tail).
Supplies
1. Yarn: This example is crocheted from yarn 50 g=160 m. You need a yarn of any colors and white. You can use the remains of skeins.
2. Crochet hook: 2,5 mm, or in accordance with the yarn you use.
3. A little piece of a different color yarn or stitch marker (I use first one).
4. Fiber filling.
5. А thick needle.
6. Scissors.
Notes
Work in continuous rounds. Don't join or turn if other not instructed in the pattern.
Use a stitch marker (or a piece of yarn). Place it at the last (or first) stitch of the row and always move it up when working to the last (or first) stitches of the rows.
When finishing ears and tail leave a long yarn tail (around 15 cm) which you can use for sewing.
Fill the stuffing into heart while crocheting it, not when you finished it.

Pattern
Legend
rnd(s) – round(s)
mr – magic ring
ch – chain
sc – single crochet
st(s) – stitch(es)
ss – slip stitch
inc – 1 increase = 2 sc in the same st
dec – 1 decrease = 2 sc together
(…) *n – repeat n times
(n) – stitch count of the row
Heart:
1: 6sc in mr (6)
2: 6inc (12)
3-4: sc in each st around (12)
Crochet 2 identical details.
For first detail: ss in the next st, cut the yarn.
For second detail: don't crochet ss. Don't cut the yarn! Continue crocheting.
Fold both details face up to each other. Insert the hook from the inside of the first detail through both details. Crochet 2sc in such way. Look at the photos. The photo specially used 2 different colors to make it clearer.
Further we will not crochet anything in these 2 sc.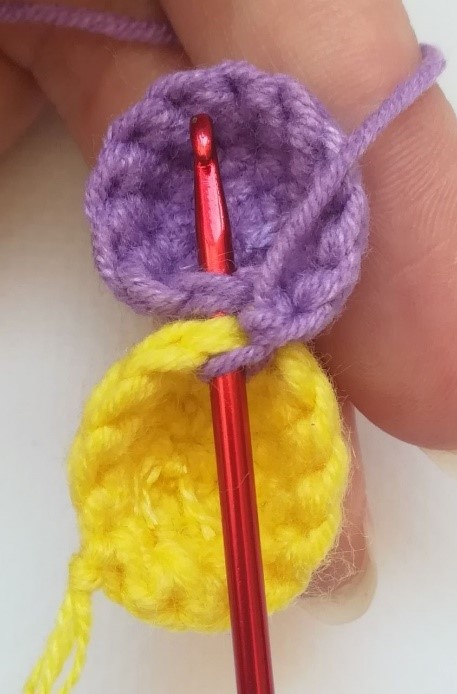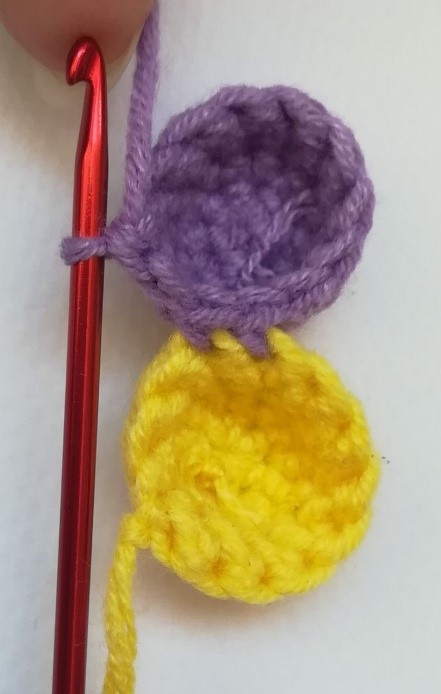 5: 10sc on second detail, 10sc on first detail (20)
6: sc in each st around (20) + sc. Replace the marker. It will be new beginning of the rnds.
7: (3sc, dec)*4 (16)
8: sc in each st around (16)
9: (2sc, dec) (12)
There are 2 variants for completion.
Look at the bunnies below. Peach bunny has the rounded bottom of the heart, beige bunny has sharper bottom of the heart.
Option 1 (for a more rounded bottom of the heart):
10: 6dec (6)
Option 2 (for a sharper bottom of the heart):
10: (sc, dec)*4 (8)
11: 4dec (4)
Cut the yarn, leaving yarntail. Tighten the hole with the help of needle, hide the yarntail inside the toy.
Ears (make 1):
(ch6, start from 2nd st from hook: 2sc, 3ss)*2
Cut yarn leaving long yarntail for sewing.
Tail:
1: 6sc in mr (6)
2: sc in each st around (6), join with a ss.
Cut yarn leaving long yarntail for sewing.
Sew the ears and the tail to the body (heart).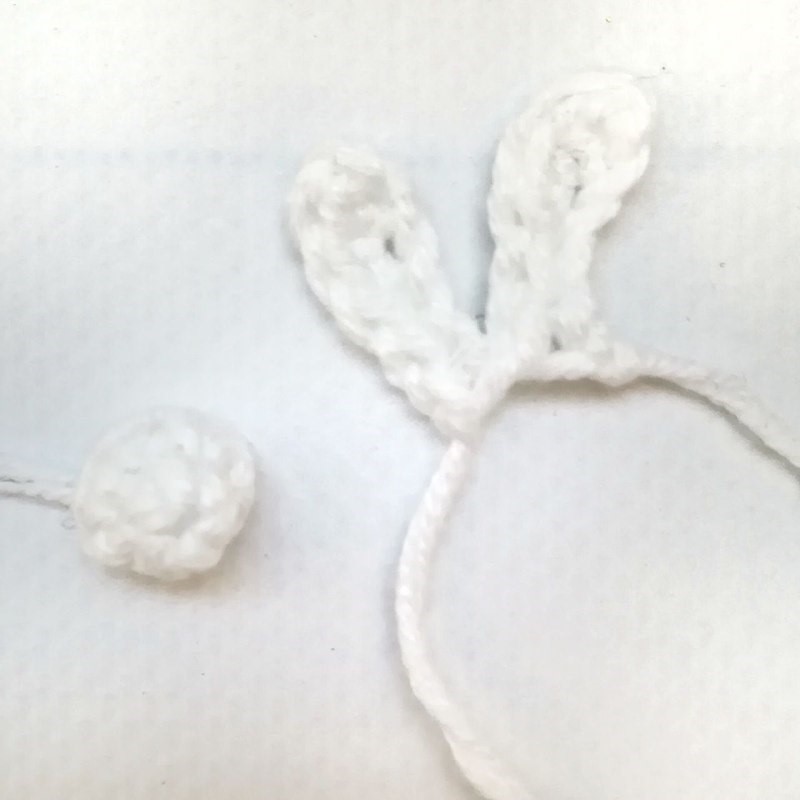 Now your heart bunny is ready!
I hope you had fun making your toy. If you have any questions about this crochet bee pattern don't hesitate to contact me: lovenika.ua@gmail.com. And don't forget to share your pictures with me on Etsy, Ravelry or Instagram with hashtag #lovenikadesign. I'll be really happy to see them.
Find my other patterns in my Etsy and Ravelry stores:
Thank You for crocheting with me!
Check out other free crochet patterns, most popular crochet patterns.